Welcome to the Last
Make It Monday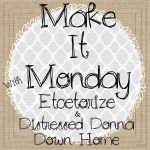 We want to see your creative projects, delicious recipes, furniture transformations, and thrifty finds.
You can still link up your regular posts but let's see what else you've got
that you want people to remember. Link as many posts as you want.
A message from my co-host Tamara from Etcetorize.
Blogging everyday for over 5 years is a very hard habit to break, but the time has come for me to devote some of my time to other interests. I hope to still post from time to time, when I have something to share but otherwise things will slow down here at Etcetorize.
This means that this will be the last Make it Monday party. I've loved having you stop by to share all of your creativity and I've been so lucky to have such a great co-host in Donna. The party was short lived but we were both so thrilled with the turn-out every week. It was so much more than either of us ever expected.
So, we decided to go out with a bang. This week want you to link up anything you want at all. If you had time to post something new this past week you can link that up, but if you were like me and spent most of your time with your family and enjoying the holiday you can link up your all time favourite post.
Donna and I will still try to get to as many as we can to comment and she has graciously offered to pick some features for next week over on Distressed Donna Down Home.
Thank you everyone for partying with us! It's been fun~
I thank Tamara for allowing me to be her co-host for this party. I have so enjoyed it.
I chose the features from last week and here they are.
Audrey from Timeless Treasures finally trimmed her tree and you will not believe what a tree it is!
I will be posting the features on my Facebook page (HERE) and my Make It Monday Pinterest board (HERE).
If you were featured, grab a button below:

Now on to the party!