Sunday after spending time priming furniture to be painted, I decided to kick back and enjoy Nurse Jackie and The Big C. Unfortunately, I cannot just watch TV - I have to be doing something else. I had two lengths of four-inch wide butter yellow torn cotton (four yards lengths -see Distressed Ribbons Post for a tutorial.) So I went to stamping.
I used StazOn Azure and Timber Brown ink pads, Stampabilities Ornate Textured Background stamp, and Catslife Press Ink Fairy stamp (she's made from a vintage ink bottle and proudly sports a bottle cap hat!) This stamp is #304G on CatsLife Press's web site. Also check out their Facebook page.
First I stamped down the entire length of both pieces with the textured stamp with the timber brown. Over the top I used the ink fairy stamp with the azure ink for each of the blocks formed by the texture stamp.
I felt the ribbon needed something else so I rummaged through my stash of buttons and found enough the sew all the way down each. piece. I used royal blue embroidery floss and simply ran a needle through the buttons and tied them off on the front side.
I was pleased with the result. I now have eight yards of torn cotton ribbon to decorate with - see the small basket above for their first resting place. I love this stamp and have used it to make journal tags and gift tags. The Ink Fairy always delights!
Here she is tarted up with some shading from colored pencils on a journal tag.
Here's to Monday - the start of a wonderful new week. Stop back by if you see something you like - I'm working on many different projects right now in order to clear the furniture from my living room!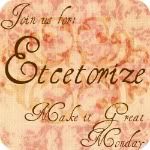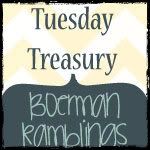 The 36th AVENUE